First Day of training at Front Sight Firearms Training Institute in Las Vegas, Nevada
If someone is going to carry a gun for self-defense, then training is of the utmost importance. The training one gets is directly proportional to the efficiency with the weapon being carried. Self-defense handgun training is comprised of many facets of the concealed carry lifestyle, and it is a lifestyle. No one should ever carry a handgun for self-defense without the best training they can get. This includes, but is in no way limited to;
Situational awareness
Safety procedures
Proper Mindset
Firing accuracy
Clearing of malfunctions
Drawing from concealment
Proper methods of carrying a handgun
Legal aspects of carrying a handgun
Legal consequences of using a gun for defense
Etc. Etc. Etc.
Situational Awareness
The "Color Code of Awareness"
Let's just start at the top. Awareness of your surroundings is crucial to defending yourself and the people you are with. If you don't know what's going on around you, then how can you be prepared to stop an attacker? There is a thing called the "color code of awareness", developed by the late Jeff Cooper, that all good firearms instructors teach. Most people are quite familiar with the concepts, but a review of these essential survival levels is worthwhile. Cooper broke down alertness levels into four colors, or degrees, of preparation for the use of deadly force. This color code system is a mental process, not a physical one, and should be practiced whether or not you are armed. Being alert may help you to avoid a deadly threat, which is always preferred.
Condition White
In condition White, you are relaxed and unaware of what is going on around you. We often see people walking down the street or through a mall with their attention heavily focused on a phone. Sometimes they will walk right into traffic or fall over trash cans, they are that "focused". Even without their nose in the phone screen, they are often not paying any attention to what's going on in the immediate area. When folks are in a diner or restaurant, they are usually not watching the other patrons, or who is coming in the door. That is unless the person entering is loud and attracting everyone's attention. I like to compare this situation to a flock of sheep going about their normal duties of grazing and sleeping. They will rarely see the wolf until it's chewing on their friends.
Condition Yellow
In condition yellow, you remain relaxed but are aware of who and what is around you. This merely means that you are paying attention to the sights and sounds that surround youWherever you happen to be. Condition yellow does not mean you are always afraid of everyone you come in contact with. Instead, you simply have moved your alertness to a level of attention that will prevent you from being totally surprised by the actions of another person.
When walking through the mall, you are moderately aware of those people in the area. When sitting in a restaurant, you may sit with your back to the door, or not have too many others sitting behind you.
You don't have to insist on sitting with your back in the corner and watching the door intently. You are not anticipating a threat, You're just making yourself conscious of your  surroundings and the other people around you. You could also run a mental scenario of what may happen and how you would react to certain incidents.
If you are attacked in condition yellow, it should not come as a total surprise. Your response to a threat should have been pre-planned to some extent, allowing you to simply run an existing plan rather than having to make one up quickly while under fire. A responsibly armed citizen should be in condition yellow whenever they are moving in society, or even at home or somewhere they feel is a safe place.
Condition Orange
In condition orange, you have identified something of interest that may or may not prove to be a threat. Until you are sure of whatever has caught your interest, you will concentrate on the possible threat and will stay focused until you are satisfied there is no threat. If someone or something looks out of place, you change from a 360-degree general awareness to a more focused concentration in a specific direction. At the same time, you can't drop your general awareness, because a bad guy in front of you may be a distraction for another behind.
If someone or something looks out of place, you change from a 360-degree general awareness to a more focused concentration in a specific direction. At the same time, you can't drop your general awareness, because a bad guy in front of you may be a distraction for another behind.
If you are attacked in condition orange, you should be expecting the attack.Hopefully, you will be facing your attacker since you have already shifted your focus in his direction. If you are well trained, your subconscious mind will have been searching for similar training you may have had, or any pre-visualized "what if" scenarios you've thought about in case something like this would occur.
Condition Red
Condition red is when you have confirmed that the potential threat has indeed become a viable one and it's time to act. This doesn't necessarily mean you will now pull the trigger. It means you are prepared to respond to the threats actions as you feel appropriate for the situation.
Once you've shifted to condition red, you will be fully prepared to either defend yourself or flee, if possible. But, your intense concentration on a forward threat will reduce your 360-degree focus. You won't be able to recognize a threat from behind without some training about the tunnel vision that naturally occurs in this kind of stress.
If possible, in both conditions orange and red, you should move to a position of advantage. This is the time for the decision of "fight or flight". If you are attacked in condition red, you should be fully prepared to defend yourself. Whether or not you have a gun in hand or on target will depend on the circumstances, but mentally, you are already ahead of the game.
This is all part of self-defense handgun training.
Safety Procedures
Safety is the number one subject when you think about using and carrying a handgun. Certain rules MUST be followed always. One thing you need to remember-"There is no such thing as an accidental discharge of a gun, only negligent ones". If the safety rules are followed correctly, there will never be an "accident". When a gun goes off unintentionally, it's negligence.
There are four cardinal rules of handgun safety.
This rule means that we must always treat every firearm with the same respect we would give a loaded weapon.

When we follow Rule One, even after we have just checked to see that the gun is unloaded, we still never do anything with it that we would not do with a loaded gun.

This is the cardinal rule, and all other safety rules follow naturally from it. At its heart, Rule One means that the other safety rules will always apply. It means we carefully protect our good habits, and never excuse our bad ones.

This rule simply states the first and most logical consequence of Rule One.

A commonly-seen violation of Rule Two

puts the left hand in the line of fire.

No matter what we are doing with the firearm — whether we are unloading it, cleaning it, or showing it to a friend — we never allow the muzzle to point at anything we do not want a hole in, nor at anyone we are not willing to kill.

Rule Two means we always stay very aware of muzzle direction during the entire time we're handling the gun.

If we must pick the gun up or put it down, we must notice where the muzzle is pointed from the very moment when we first touch the gun until the moment when we finally let go of it.

If we cannot pick the gun up without allowing it to point at something that shouldn't be shot, we should not pick it up. If we cannot put the gun down without allowing it to point at something that shouldn't be shot, we should not put it down.

Whenever we handle a firearm, we can think of it as a Star Wars light saber: anything it crosses will be cut in half.

You should consciously intend to put your finger on the trigger. A responsible gun owner never finds their finger resting on the trigger or within the trigger guard.

The trigger finger should always be indexed on the side of the slide above the trigger guard.

What is a target? It's anything we deliberately point the weapon at. It's a place we fully intend to put a bullet. Whenever we are not deliberately pointing the weapon at the "target", we must keep our finger away from the trigger and up on the frame of the gun.
This rule sounds deceptively simple, but it covers a world of potential tragedies.  Among other things, it means we always identify our intended target, and that we must carefully consider the backstop — or lack of a backstop — beyond it.
Hunters must always visually identify the game they are shooting.  It is not enough to merely hear a noise or see a quick flash of motion or color.  We  must see enough of the animal to positively identify it as both legal and safe to shoot.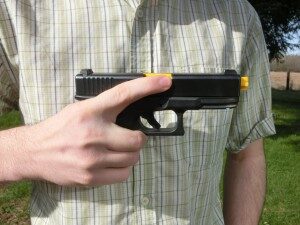 Placing the finger high on the gun's frame.
When shooting at the range, we must never begin firing until we are absolutely sure that no one is lurking behind or around the targets.  It isn't enough to simply hear someone call the range clear.  When we're the ones holding the gun, we must look for ourselves. Every shooter is responsible for where their own bullets land, and that's why we look for ourselves.
To follow Rule Four, we make sure of the space between us and our target by asking ourselves, "Could someone come between you and what you're shooting at?"  We do the same thing by looking at the areas around our intended target, when we ask, "If you miss your target, what will you hit instead?"
For concealed carry permit holders, this becomes even more critical. With such high stakes, we must be overwhelmingly sure of the circumstances before we pull a gun in public.  If we are not overwhelmingly certain that the person we intend to shoot is an immediate, deadly threat to an innocent person, then we know that the gun is not the correct solution to the problem.
Rule Four also means that every time we fire a gun in practice, we must have an adequate backstop that will stop a bullet.  When we practice dry firing, we  must have a safe backstop at home.  On an outdoor range, we never allow the muzzle of the firearm to point above the berms which are designed to contain the bullets.
When we use a gun "for keeps," as in hunting or self-defense, it may not be possible to have a solid backstop as we would on the range.  Nevertheless, we must always be conscious of where our bullets will land.
For self-defense, when there is an innocent standing directly behind the target, we should either hold fire or reposition ourselves so that the innocent is no longer in the line of fire.  We must weigh the deadly threat from the attacker on one hand against the deadly threat from our own bullets on the other hand.
Whenever we handle guns, we know that we will be called to account for every round we fire, not just the ones we intended to shoot. We know we are responsible for every bullet that leaves our guns, not just those that hit the intended target. That's why we guard our good habits every time we handle a gun, and that's why we always follow the Four Rules.
Proper Mindset
This is the mainstay of being a "responsibly armed citizen". As the carrier of a concealed firearm, you are expected to take the responsibility for your actions. This means with or without your gun. You should be the epitome of good judgment in any situation of confrontation with another human being. You must avoid confrontation at all cost at any time. If this means eating a little crow once in a while, then do it.
Ladies training at different ranges around town
Massad Ayoob, I've been told, has carried a twenty dollar bill wrapped around a coin. When confronted by a thug, one of the first things he does is to throw the wrapped coin to the thug and offer to buy him a coffee. This does two things. It distracts the thug away from his attack mode and gives Mr. Ayoob a way to avoid a mishap. Massad Ayoob is one of America's premier self-defense gun experts and has been called as an expert witness in numerous self-defense shootings around the country. His books are considered as bibles in the firearm society.
Weapons Firing Accuracy
It can be a lot of fun going to the firing range to exercise your skills at shooting, and get in a little "range time". Not only for fun, it's really necessary to hone your skill, and you have to be able to control where your shots land. It's even more critical if you are involved in a self-defense shooting.
This may sound a bit gruesome, but the facts are the facts. If you must stop an attacker with your gun, you have to know where to hit him/her with the bullets, and you must know how many times to hit them. The rule of thumb is two in the thoracic cavity and one in the cranial ocular cavity. To those not familiar with human anatomy, this means two to the chest and one to the forehead. The real purpose is to simply "stop the threat". Some thugs can be stopped with one shot, but most won't. They can keep coming at you with a shot to the heart, depending on how high they are on adrenaline or drugs.
Accuracy can be quite important in these cases. Science has shown that you will be "as good in a real gunfight as you are on your worst day of training". The reason for this is the adrenaline rush that you will experience in the stress of a fight. You will get tunnel vision, your manual dexterity will greatly diminish, and your hearing will almost disappear. This is a physiological response to the stress of the situation. The body does this automatically to protect the vital organs from the stress of what may happen. You can control this a little bit with the right training, and lots of it. You need what's called "muscle memory". And muscle memory is perishable, meaning, if you don't use it, you will lose it.
If you are going to be accurate with your gun you must train. You need to know trigger control, hand/eye coordination, where to put your hands and how to get them there without shooting yourself. You need to know how to get the gun from the holster to the shooting position and on target. You need the ability to clear the gun in case of a malfunction. This is all found in your muscle memory and you need to instill it there.
Clearing a malfunction
Handguns are generally pretty reliable, but they are man-made machinery. They can fail, and Murphy's Law has been known to take over at the most inopportune times. You should be able to recognize a malfunction and clear it in seconds without much thought. Again, here comes your muscle memory. Guns can jam when a spent casing fails to eject, when a live round fails to feed into the firing chamber, or when a magazine fails to feed the next round up to the feed ramp. All this is possible with a semi-auto handgun. A revolver has far less possibility of malfunction, but it can still happen. Part of your training will teach you to recognize the fault and fix it within seconds to stay in the fight, and hopefully win.
Prepared to win? Can You Draw From Concealment?
Drawing from an IWB holster
Granted, a lot of these circumstances will probably never occur, because most gunfights are within just a couple feet, and are over in 2 to 3 seconds., according to FBI statistics. To survive this kind of fight, you also need some specialized training. How do you get your gun from concealment to fire fast enough to defend yourself if the attacker is just 3 feet away? FBI tests show the attacker can close 21 feet in less than two seconds. Can you stop him with your gun? Many can with the right training.
How Will You Carry Your Gun?
You must know how to carry your concealed handgun in a manner fit for swift deployment. Sounds kind of military, doesn't it? This is where your choice of a holster comes into play. You should train with the gun you carry in the holster you carry it in and in the location you will normally carry it. There is a statement many people have quoted often. "Carry the same gun in the same holster in the same place all the time". Remember that muscle memory thing? If you carry differently from time to time, your muscles won't remember where your gun is or which one you have on you. You have to get used to the same thing from day to day. I understand there may be occasions when you must change your routine, but this should not be a regular occurrence.
Training Includes Knowing What The Law Says
The judges gavel in the court room.
Laws are supposed to be somewhat universal, but we all know they're not, don't we? Gun laws in New York are much different than laws in New Mexico. You have to know the law in your own jurisdiction, as well as any jurisdiction you may travel into or through. This is all part of your training as a gun carrier. You may remember hearing about the man from Wyoming going from Georgia back home and his plane got diverted to New York City. His gun was being carried legally in the airplane when he left Georgia, but in New York City he was breaking the law and faced 10 years of prison. This is an exception, but not all that rare. Lots of folks have gone through this kind of treatment. Some of it is innocent miscarriage, like the man I just told you about, but some are just ignorant of the laws from state to state or city to city.
How About The Law If You Use Your Gun?
Ask George Zimmerman how the law treats you if you  use your gun. Do you remember him? Generally, the law says in a self-defense shooting the shooter is at fault whoever he is. Experts say the first one to call 911 will be considered the victim, the good guy. But you and I both know if you are the shooter, you will go to jail. That's where the USCCA comes in if you're a member and carrying legally. They will be there to fight for you in the court system. Check them out in my reviews page.
The Last Word?
The last word here is; Self-defense handgun training is your individual responsibility. You are responsible for your own actions and your own training. If you think, like my nephew, that you know all you need to know, and training isn't necessary, then I wish you lots o' luck.
Training for firearms use is available all over the country, There are good schools, there are great schools, and there are not so great schools. You just have to find the one right for your location and budget. I personally recommend Front Sight Firearms Training Institute in Nevada, just outside Las Vegas. You can see my review of them here in these pages. And if you wish, I can arrange great discounts for the training there. Look at the review, then contact me at [email protected].
If you would like to leave comments about this article, please do so in the box below. I'd really be interested in hearing what you have to say. Thanks for stopping by.
Harry
Get this great book at Amazon.com
A Training Book available at Amazon.com
Gun Digest's History of Concealed & Defensive Handguns eShort: Discover the history of concealed carry handguns & learn about the firearm laws, facts & … & concealed carry. (Concealed Carry eShorts)