Concealed carry for the disabled can be one of the biggest challenges they face to defend against an attacker. People with disabilities and seniors tend to be victimized far more often than other populations of people. Their need for self-defense training is great, yet many people are not strong enough physically for martial arts training.
People with disabilities have fewer self-defense options than able-bodied people. This is especially true if they are confined to a wheelchair or have their mobility otherwise reduced.  The disabled are also more likely to be victims of crimes due to their tendency to be easier targets. The solution is to not remain vulnerable to criminal attacks.
As a result, those with disabilities should be taking advantage of all opportunities to even the odds and arm themselves for protection.
As a disabled person, you may not necessarily be able to run to safety, punch an opponent, or scream loudly for help.
Out in public you are at a disadvantage and as author Carolyn Boyles says in her article "Disability, Self-Defense and Concealed Carry" on USConcealedcarry.com:
"That leaves a firearm as the most practical choice for a person with a disability. As with any of the above self-defense choices, hopefully, a person (especially a disabled person) can discharge the weapon accurately and effectively to avoid either being disarmed or attacked by the assailant. Fortunately, I have never had to find out." (Read more about concealed carry options for the disabled here)
Depending on the level of injury or disablement, the traditional methods for concealing, drawing and presenting a handgun may not apply. Shooting from a sitting stance is different than standing and many people experience reduced dexterity and slower reaction times. Neither of these examples is a reason to not carry, but rather problems to be solved with creativity and training. If you use equipment such as canes, walkers, or wheelchairs to assist your mobility, these devices can be used to help conceal your weapons for easier access.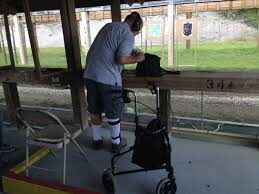 Disabled or not, you are still ultimately responsible for your safety. There aren't police waiting on every street corner and most of us can't afford our own bodyguards, so it comes down to utilizing every possibility to ensure we are capable of protecting ourselves.
If a physically strong, able-bodied criminal attacker launches an attack on a person with disabilities or a senior, the notable disparity of force in the attacker's favor places the target of the attack at an incredible disadvantage. In order to even the odds and avoid being victimized, if the potential victim is unable to retreat, they need an effective force multiplier they can operate, such as a firearm. The reality, however, is that a handgun or any other firearm is not a kind of, 'magic talisman.' If a person is not proficient with their firearm, it is of no more value than a large stone, and it could be taken and used against them.
As a disabled person seeking to enhance your personal protection, you aren't alone. There are many other people who are working towards the same goal.
Some concealed carry self-defense classes are designed especially for those, who have reduced function. Don't fight this battle alone. Seek out others and consider taking some shooting classes focused on the issues disabled people face on a daily basis. This is one of the self-defense training facilities that will cater to the disabled shooter;
http://riclin.net/classes/disabled-individuals/
We've all witnessed athletes with physical disabilities defy the odds and do what seems to be impossible. Similarly, individuals with physical disabilities shouldn't let what they "can't" do stop them from becoming a responsibly armed citizen. It just takes a bit of patience, a good mindset, and proper training in certain areas in order to develop a defensive posture when physically disabled.
A proper mindset is the first thing every gun owner should possess in order for their training to be effective. The force behind a good mindset is the motivation to survive. Whether it's your family, faith or another driving factor, it's beneficial to reflect on this motivation and hardwire it into your gun ownership responsibilities and training.
Training is for everyone
Next, all responsibly armed citizens should receive proper training in the form of mental, medical, physical, and firearms training.
Mental training can be as simple as viewing educational videos or reading articles and books, such as those available to USCCA members and subscribers. These materials can cover topics ranging from fundamentals of concealed carry to gun model and operation specifics.
Advanced and survival first aid courses are highly recommended, as they teach individuals how to stop bleeding, properly use tourniquets, and other important skills related to survival skills that are crucial to being a fully prepared and self-reliant citizen.
Physical training is especially important for those whose physical capabilities are limited. Build on what you can do and make what parts of your body move, move even better. We recommend asking a doctor for the best advice on how to properly gain strength as well as take advantage of concealed carry training tools. For instance, those whose disabilities may render them unable to hold a handgun how it is supposed to be held because of decreased range of motion can use a laser aiming device to learn how to properly aim using one hand.
Advanced training in handgun operation is crucial. Those with disabilities should try out different pistols and revolvers until they find the one that is most comfortable using with their given disability.
Seeking out further training will only help you. Consider approaching your gun shop owner or finding classroom-based training courses to further develop and practice skills.
People with disabling physical injuries and chronic pain are no doubt at a disadvantage. Living with pain on a daily basis is tough. So, let's face it. Combat training when it is already hard to move, twist, bend, reach, etc. is hard! However, it is what it is. Training is just what we must do if we are serious about being able to fight with a handgun. So, what are some of the specific adversities many of us with physical disabilities have to deal with and how can we overcome them, or at least effectively deal with them?
Let's consider some of the issues disabled people face on a daily basis. Most folks don't have any idea what they have to go through.
Getting Dressed in the Morning
People without physical disabilities may not ever consider what it takes for a disabled man or woman to get dressed for the day. But with a limited range of motion, think of how much more difficult it is to put a holster on your belt, on your ankle or get into a shoulder holster. How would this be done? How could you put a holster on the belt if you can't bend or twist at the torso? Do you wear an ankle holster if you can't tie your shoes?
A lot of thought has to go into choosing the gear you will use to carry a concealed handgun and how you would reach it to draw and bring it to the ready. A conventional belt holster may not work at all. Maybe a fanny pack would be a better choice. If you are confined to a wheel chair a shoulder holster, or variation of one, may work out best. You might have to have a special holster designed to mount somewhere in, or on, the chair.
In some instances, it may work out better to dress your pants with a holster before you put the pants on. It wouldn't matter too much if you wear an IWB or OWB, the procedure will be the same. Thread your belt through the loops of your pants and the holster while they are easier to reach, then put them on together. I do this all the time. At night, I don't even take the holster off my pants unless they are going into the laundry bin.
How Do I Draw My Gun?
Drawing the weapon for use against an attacker is another thing to consider. It's not like just twisting around to draw from the four o'clock position. This takes some serious thought and training to know where to carry and how to get your gun out for use if needed. A disabled person must train just as much as anyone else to be able to move into position and draw smoothly and efficiently.
Be aware of the position of your gun and holster on your body. If it's on your waist, know exactly where it is and be able to reach it with as little effort as possible. Maybe carrying in the appendix position would be a good choice. Maybe a pocket holster would do. Whatever you decide, you must practice, practice, practice.
Am I Able To Shoot And Move?
Stainless revolver with wood grip
As a person with a little bit of arthritis setting in, I can tell you that moving around sometimes isn't all that quick and easy. Manual dexterity is also an issue with some disabled folks and even the elderly without defined disabilities. Can you get a grip on the gun and press the trigger? Which gun should you carry? Some have easier trigger pulls than others. Racking the slide on an autoloader may be pretty hard to do for some people. You may consider carrying a revolver, instead, but they usually have a harder trigger pull than auto-loaders.
Can you move to cover or concealment? Can you draw and move at the same time? This takes a bit of mental rehearsal and more practice with a dry fire procedure.
I know this sounds like an awful lot of work and effort going into carrying a gun. But it's the same for us all, whether we are disabled or not. Think about what it would be like to get attacked without any defense at all. It's like the sheep standing in the pasture with no sheepdog, just waiting for the wolf. And we know the wolf is going to eat the weakest of the sheep first, isn't it?
Cleaning Your Gun
This is important but in reality, can be handled by someone else if needed. Many local gun stores offer cleaning at a reasonable cost to their customers. If you have too much difficulty with the slide or internal workings, then a gun cleaning service at the local shop might be the answer.
The Ruger Autoloader
Some Final Thoughts
Massad Ayoob, an expert in the use of firearms for law enforcement and self-defense, sums up the choices this way: "Guns are the only weapons that put a physically small or weak person at parity with a powerful, very possibly armed, criminal."
That leaves a firearm as the most practical choice for a person with a disability. As with any of the above self-defense choices, hopefully, a person (especially a disabled person) can discharge the weapon accurately and effectively to avoid either being disarmed or attacked by the assailant.
Many people with a variety of disabilities in America do indeed own firearms. They pursue training on how to use these weapons. They feel the need to possess a firearm because the leadership of this world has let down everyone, to include people with disabilities. They feel the need to own a firearm because they understand the lawmakers, military, police forces, and other government organizations do not have the ability to keep them safe.
Concealed carry for the disabled is, in my opinion, necessary for the safety of all our disabled and elderly citizens. The police can't protect anyone from around the block or across town. Our citizens must be able to take care of themselves first, then call the "second responders" to "clean up the mess".
If you have an opinion on this topic, please leave it here with me in the comments box below. And thanks for stopping by. Please come back anytime.